---
(j) to strive towards excellence in all spheres of individual and collective activity, so that the nation constantly rises to higher levels of endeavour and achievement.
---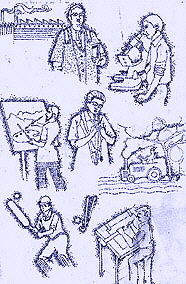 This Chapter Contains:
Excellence In Co-operative Programmes
Excellence In Manufacturing
Promotion Of Youth Affairs And Sports
Excellence In Sports
Excellence In Industrial Development
Commercial Growth
An excellence in the fields of Law and Judiciary
Excellence In Art , Music & Dance
Excellence in Beauty & Talent
Excellence in Cinema
Excellence in Transport & Communication
Bharat Ratna
Rules Of Self Control - Mahatma Gandhi
Recipients Of Bharat Ratna
Presidents Of India
Prime Ministers Of India
Chief Justices Of India

---
Related links:
Nobel Foundation
Recipients Of Bharat Ratna
Indian Medals And Awards
Presidents Of India
Deptt of Industrial Development
Department of Youth Affairs & Sports
Indira Gandhi National Centre for the Art


---
Every man should try to do his best to excel himself in whatever field he is required to do work. India has six Nobel prize winners viz. Sir C. V. Raman for Science , Rabindranath Tagore for literature, Mother Teresa for Peace, Amateya Sen for Economics. Bharat Ratna and other awards are also given in appreciation of excellent work done in various fields. In the field of international game, India has distinguished herself in the game of hockey, for some years in the past and had maintained a tradition of winning the Gold Medal which, it lost at Olympic at Montreal. No doubt India has some of the outstanding dancers and singers of international fame and reputation, but contribution in this field can be improved.
There are many other fields where it will not be possible for any individual to do without cooperation of others. In the field of industry, commerce, business the work can be done by forming Co-operative Societies. The co-operative movement was primarily intended to liberate the Indian villager from the clutches of local money lenders and to promote the habit of thrift among the rural population. When India became independent, the co-operative movement was sick and dying. But the Government decided to put co-operation back on its legs. Various efforts were made in this direction. The Committee was appointed by the Reserve Bank of India in 1955 which made a comprehensive survey of co-operative credit to agriculture. They made various recommendations in the interests of the rural population, generally and the rural producer in particular.


---